Blog
Image

Celebrating Penn's Iconic 'Quad' Elm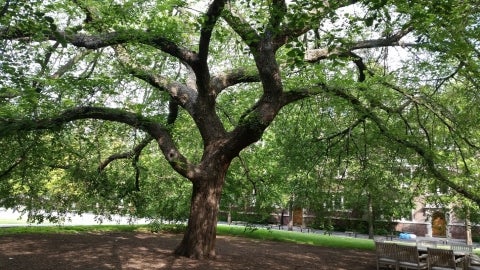 There are few trees that rival the American elm's historical significance in Philadelphia. Most notably, the original 'Treaty' elm was a large, wide-spreading tree under which William Penn and Tamanend, a chief of the Lenni-Lenape nation, signed a treaty of peace in 1683. Descendants of this elm are still scattered around the area at various arboreta and gardens including one on Penn's campus. Over the years, propagation staff at Morris Arboretum have produced many clones of the tree to distribute.
Penn is home to another historic and majestic American elm known as the 'Quad elm.' Located in the heart of Penn's Quadrangle dormitories, the tree has remained a preserved and solidified centerpiece over its long life. The tree grew as the University grew, spreading about 85 feet wide and almost ten feet in circumference at its peak.
Countless generations of students have enjoyed the benefits that the tree has provided: its far-reaching shade, abundant fresh air, and picturesque fall foliage.
The tree has a rather unique appearance relative to other American Elms—it's not as tall, and the branches arch slightly downwards, resulting in an almost closed, dome-like crown. The origins of the tree are uncertain, leaving the variety or cultivar up for speculation.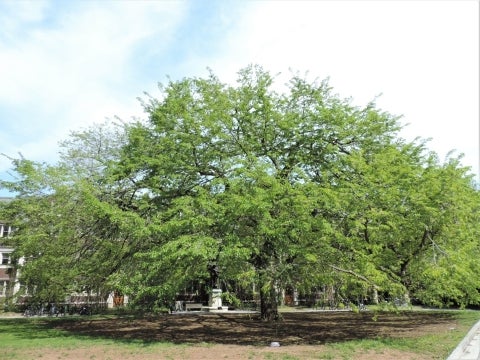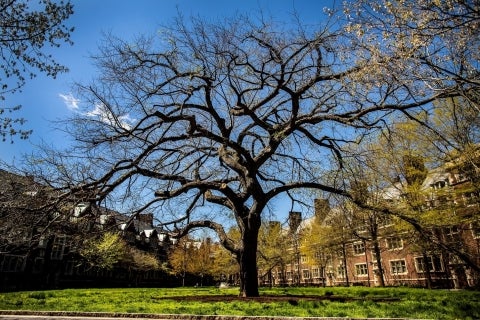 Unfortunately, the tree has been steadily declining over the last few years. Despite exhaustive efforts from Penn staff, Morris Arboretum Urban Forestry Consultants, and other contracted Master Arborists, the tree's health has dipped below the point of no return. Penn staff did everything they could to preserve the tree, but the exact cause of its decline is not clear.
Its caretakers have been treating the tree for Dutch elm disease (Ophiostoma ulmi), the most common cause of death in native elms in our area, and test results rule it out. One factor that could be contributing to its decline is bacterial leaf scorch (Xylella fastidiosa). The tree tested positive and has been treated for this disease, which is relatively common for oaks in our area, but is not as frequently seen on elms. Branch samples tested positive for Botryodiplodia canker, a fungal pathogen that affects the living wood and causes early leaf dieback and witch's broom.
Despite the many treatments, soil amendments, and close care that the tree received, its vigor continued to decline. Perhaps the cumulative stress of many different diseases, pathogens, or variables became too much for the tree to handle. Or perhaps the tree has just reached the end of its life.
Ultimately, it is now a safety hazard and has been scheduled for removal on the week of July 11th. If you want to say your goodbyes, just remember that because of the tree's location, you will have to sign in through campus security.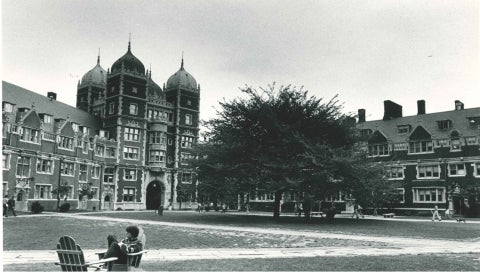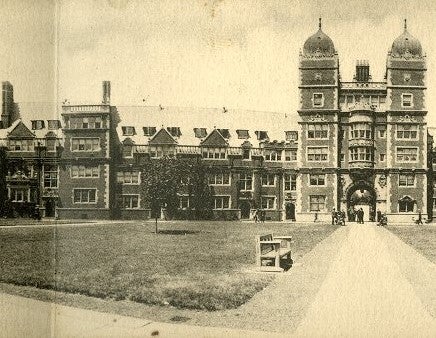 Jason Lubar, Associate Director of Urban Forestry at Morris Arboretum, will miss the tree's presence on campus. "The Quad elm was a wonderful, spreading umbrella of green and really defined the space it was in. I was surprised how quickly it declined after years of good biological and structural health, even with the best of care. It's a tree that will be missed by all on campus, but removing it is an opportunity to plant more trees for the future."
If the wood is of high enough quality, Penn staff will count the growth rings to confirm its age. Based on historical and aerial images, estimates on its planting date range as far back as ~1910. The University will replant this area at a future date.
Please share any photos you may have on social media, using the hashtag #QuadElm.
Andrew Conboy received his bachelor's degree in Environmental Science from Chestnut Hill College and his master's degree in Biology from Lehigh University. He is passionate about trees and plants and their potential for remediating environmental issues. He runs a local non-profit called Colonial Canopy Trees and enjoys creating educational video content focused on trees and environmental topics.