Summer Camp
Image

Image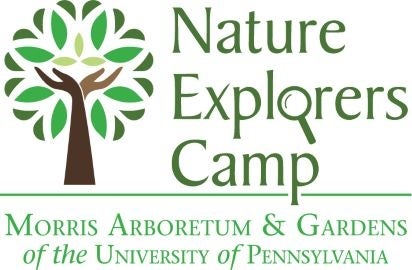 Summer Camp 2024
Awaken your child's curiosity and nurture their appreciation for nature by registering them for Morris Arboretum's Nature Explorers Camp. Led by experienced educators, our goal is to inspire new generations of environmentally aware citizen scientists.   
---
Registration
Save the Date: General registration opens January 25, 2024 at 12:00 pm 
Image
*New this year – Our registration system cannot handle large volumes at checkout, so your chance of success in getting the weeks you want, and our ability to offer to camp to as many children as possible, become much better if each child is registered for a MAXIMUM OF 3 WEEKS OF CAMP. If you are interested in registering for more than three weeks, you are welcome to add more camp weeks if available, or join the waitlist, beginning on January 26 for as many additional weeks as you would like. Because our registration is so early and plans do change, waitlist spots often become available. If you are already registered for three weeks but are offered a spot from the waitlist, your child can attend for as many additional weeks as you like.    
When enrollment is full, you can register for the waitlist using the same link. There is no charge to be waitlisted, and spots often become available between now and summer. 
How to Register 
Pay online through the Morris Arboretum website. During the initial wave of registration, each child is limited to 3 weeks! Join the waitlist for a chance to participate in more weeks. 
After you pay, check for and read your confirmation email.  
Download the registration forms sent with your confirmation email. 
Use a separate form for each participant. 
Email these forms to IGRUBIN@upenn.edu by MAY 31 in order to hold your spot. Forms received after June 1 will incur a $25 late fee. If we are missing your forms, your child cannot attend camp and your spot may be forfeited. 
Image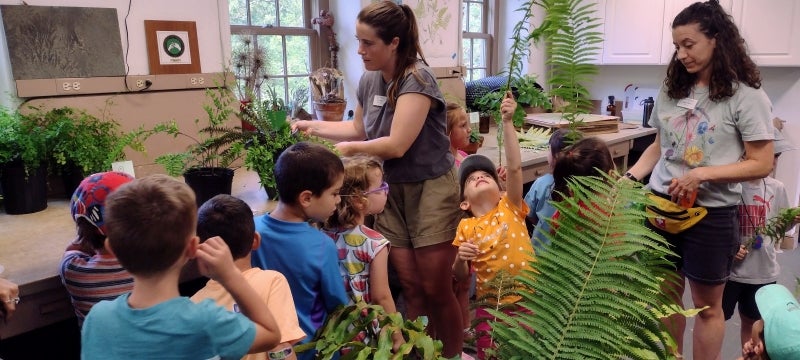 Dates and Details 
Little Lightning Bugs: Ages 4 to 5 (Adult/Child ratio of 1:6) 
Bloomfield Buddies: Ages 6 to 10 (Adult/Child ratio of 1:8) 
Weekly Camp Sessions: July 1 to August 9, 2024 
Duration: Monday - Friday, 9:00 am to 3:00 pm 
*We are not able to offer before care or aftercare. 
All camp weeks include daily hikes and garden exploration, as well as arts and crafts. There will be a weekly creek walk and water play on hot days.
Little Lightning Bugs (Ages 4 – 5)
Journey through the Morris as we discover different types of plants, including some ancient species that have been around since the time of dinosaurs. Learn about ferns and spores, the difference between leaves and needles, and how plants adapt and survive. 
What do modern birds have in common with dinosaurs? Many dinosaurs had feathers, and there is no longer any real doubt among scientists that birds are a type of dinosaur. Learn all about feathers and what made them special to both dinosaurs and birds, look for birds throughout the Morris, and do bird games and crafts.
This summer we are traveling back in time to the Mesozoic. Imagine ancient forests, giant insects, and dinosaurs! We'll play dino games, make fossils and other crafts, and learn a bit of earth science.
While ancient forests and animals looked a bit different than they do today, the earth also has many repeating cycles. Learn about seasons, water cycle, and animal life cycles as we say goodbye to summer and get ready for a new school year. 
This summer the Morris is going Mesozoic! Travel back in time and imagine ancient forests, giant insects, and dinosaurs! We'll play dino games, make fossils and other crafts, and learn a bit of earth science. 
No camp on July 4. 
How do animals survive and what do they do? Learn about some of the animals at Morris and their adaptations. Find different habitats among our 92 acres and do a variety of survival activities and games..
Bloomfield Buddies (Ages 6 – 11)
Millions of years ago, dinosaurs and other ancient creatures roamed the earth. At camp we'll be using our imaginations to bring them back! During this action-packed week, we'll play dino games, make fossils and other crafts, and learn some geology.
No camp on July 4.
We have 92 acres to explore, so travel with us on an arboretum adventure. Discover what lives and grows here at Morris by looking for animals tracks and signs, learning some plant ID, and finding edible plants. We'll also practice some outdoor skills like using a compass and knot tying. 
Join us as we travel back in time to the Mesozoic era! This is a time dominated by dinosaurs, giant insects, and an abundance of plants. Learn about the importance of plants to all life on earth and discover plants at the Morris that are very similar to their ancestors from millions of years ago.
We have real dinosaurs that are currently living at Morris! That's right, birds are actual living dinosaurs from the same theropod group that includes T. rex. Campers will learn about both birds and dinosaurs, discover different kinds of feathers, go birding, and do bird crafts and games.
Millions of years ago, dinosaurs and other ancient creatures roamed the earth. At camp we'll be using our imaginations to bring them back! During this action-packed week, we'll play dino games, make fossils and other crafts, and learn some geology.
Some of the plants and animals of prehistoric times looked a bit different than today, but other things on Earth have stayed about the same. Various cycles repeat themselves, and we can find evidence of prehistoric times when we look at our world today. Learn about the water cycle, rock cycle, and discover some of the natural processes and geology that help to shape our planet.
Image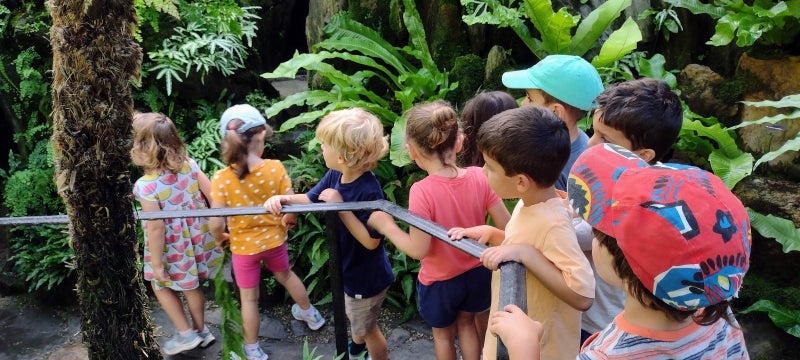 Pricing 
Members*: $310 (weekly) / Non-members: $330 
* To receive the member pricing for camp, you must be a current member at the Family level or above. If you purchase a membership online at the same time as your camp purchase, you will get the discount for camp. If you purchase a membership a few weeks before camp registration opens, please check with membership prior to January 25 and make sure that your member account has been updated in our ticketing system (sometimes this can take a few weeks). 
Need-Based Scholarships 
A limited number of scholarships are available on a first-come basis to those with demonstrated financial need. Email igrubin@upenn.edu for more information.
Image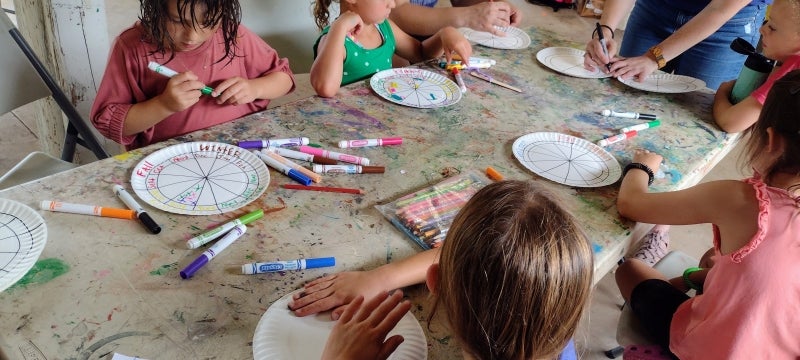 Additional Information
Attending Nature Explorers Camp with a Same-Age Friend or Sibling 
We only have one group for Little Lightning bugs, so all 4-5 year old campers will be in the same group. Bloomfield Buddies will be divided into two groups by age. Groups will be preassigned, and children will be told their groups each Monday. If your child has a friend or relative registered in Bloomfield Buddies and you wish to place them in the same group, please email igrubin@upenn.edu at least TWO WEEKS PRIOR to the start of camp. 
Is a nature camp right for your child? 
It is our hope to inspire a love of the outdoors in all participants.  We spend the majority of our day outside in nature—not in air conditioning. Our campers hike and navigate uneven terrains throughout the Arboretum. We also play games and use natural materials for our arts and crafts. Safety is our number one priority; however, injuries can still occur. Children encounter bees, biting insects, slippery terrain, and tree roots, which all can pose a hazard. Together, we enjoy fun, physical activities under careful supervision of Arboretum education staff. With the guidance of educators, campers must listen to directions, stay with the group, adhere to camp rules, and take accountability for their own safety. Please see the Parent Handbook for more information about our camp and rules.  
Weather Policy 
Camp is held rain or shine. In the case of lightning, activities will be modified and moved indoors. Please dress your child in clothes that can get wet or dirty! If temperatures exceed 90 degrees, activities are modified, and participants will not be doing anything strenuous. In addition to morning creek walks about once a week, we will do water play (sprinklers, wading pools, etc.) whenever there is a heat advisory. 
Image
2024 Registration/Cancellation Policy 
Planning ahead can be challenging for everyone, but please be mindful when making your camp registrations. We often cannot accommodate requests to change scheduled weeks since we fill up quickly.  
Cancellations on or before April 15: $30 fee will be deducted from refund for each week cancelled. 
Cancellations April 16 to May 31: $50 fee will be deducted from refund for each week cancelled. 
After June 1: Refunds will ONLY be issued for extenuating circumstances and are at the discretion of the Camp Director. If a replacement is found from the waiting list, a refund may be granted minus a $75 cancellation fee. 
Image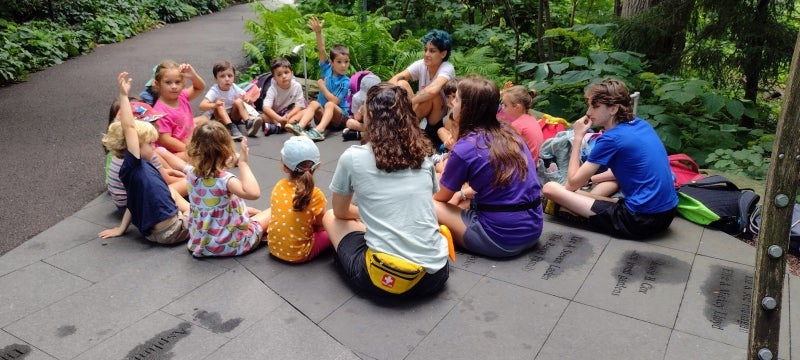 Seeking Teens Ages 12 – 16:
Volunteer Counselor-in-Training Program  
We are currently looking for volunteer CITs (Counselors in Training) to join our camp program this summer. We will provide daily leadership training, and CITs will assist our experienced camp staff. Some of our CITs are former campers, but the program is open to anyone who is good with kids, likes to spend time outdoors, and is looking for work experience.  
CITs must commit to three full weeks, and we will be running two sessions: Session 1 will run from July 1–19 and Session 2 will run from July 22–August 9. Please submit your CIT application by February 16. Please ask your references to submit their reference forms by February 16 as well. We will begin interviews the week of February 19, and will let you know our decisions by mid-March. If you are accepted as a CIT, the program fees are $75 for members and $100 for non-members. This fee will be waived for returning CITs.
A zoom info session will be held on February 8 at 4:30 pm. We will talk about the program and will answer all questions. If you cannot make it to the info session, but still want to learn more, please reach out directly.  
If you are looking for a paid position as a Camp Counselor, please visit our employment page (we expect to post positions in February).  
Image

Image

Image

Image

Image

Image

Image

Image

Image