Parties and Social Gatherings
Image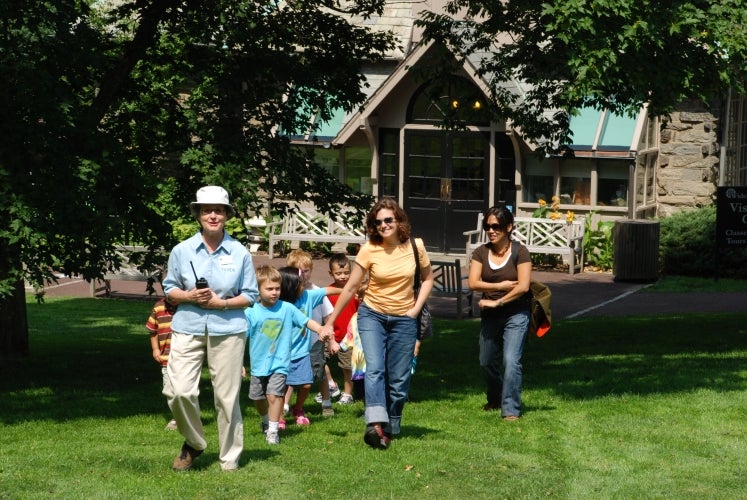 Daytime Options
The Morris Arboretum will put your event in a class of its own, away from the rush of modern life, against a backdrop of gorgeous gardens. A variety of indoor and outdoor settings may be rented with direct access to the rest of the gardens for you and your guests to wander and enjoy during our public hours. Free on-site parking is included. For refreshments you may choose from any of our approved caterers [link to vendor contacts], who represent a variety of cuisine styles and price ranges. Our outdoor events season runs from April through October and indoor events may be booked year-round. Dates may be booked up to six months in advance. Enjoy peaceful, natural surroundings for a memorable event!  
Birthdays, Bridal and Baby Showers 
Celebrate your milestone event surrounded by greenery in our outdoor reception tent. We offer three tiers of party: up to 50, 51 to 100 or 101 to 150 guests. The space allows flexible layout for your style and our dining tables and reception chairs are included.  
Indoor parties for up to 50 can be held in our Upper Gallery space with A/V capabilities and optional access to the McLean Room for catering set up.  
Events may be scheduled between 10 AM and 2 PM, with a two-hour minimum, based on open hours and availability. During the day the reception tent space is shared with our members and visitors, and we partition your space for visual privacy. If a private evening event sounds better for you, check out our options under Evening Events below. 
Celebrations of Life 
Planning a happy celebration of a passed loved one? The Arboretum may be an option for you to come together in the beauty of nature. Private programs may be held between 10 AM and 2 PM in the Upper Gallery with a luncheon following in the Side Tent. For daytime events, attendance is limited to fifty guests and must be invite-only. Open invitations with variable guest counts, funeral services, wakes or other somber events are not permitted. If you'd like to host a larger event, see our Evening Events options below.  
Hourly rate between 10 AM and 4 PM; subject to availability (two-hour minimum).
Evening Options
Birthdays, anniversaries, cocktail parties with friends or a grand celebration are all wonderful when set in our beautiful gardens. For Celebrations of Life, choose one of our picturesque settings for your program and then celebrate at Out on a Limb or in the reception tent afterwards.  
Looking to host your employee or client appreciation event, a fundraiser or awards dinner? Perhaps a special company dinner or gala event? We have several options after hours to entertain your guests in a lovely garden setting and historic carriage house building.  
Evening parties can only be booked up to 6 months prior to event date (subject to availability).
Daytime Locations & Rates
The Upper Gallery is located on the main floor of the Widener Visitor Center and is a great location for birthdays,
showers, or other events. The floors are carpeted, lights are dimmable, and the walls are lined with nature-inspired
exhibits. The original barn door slides to create a separation from the Arboretum's gift shop. The Upper Gallery
accommodates 80 people audience style and 65 at round tables.
Capacity
Audience: 80
Sit Down: 65
Rate: $600/hour
The Classroom is located on the lower level of the Widener Visitor Center and works well for smaller gatherings—
up to 22 people. The room includes a large chalkboard and screen. The Mercer tile floor, stucco walls, exposed
wood beams and French doors create a cozy, rustic ambience.
Capacity: 22
Rate: $250/hour
For daytime events during the months of April through October, the side tent is a great outdoor option. From this
hillside vantage point behind the Widener Visitor Center, many of the Arboretum's trees and other plantings serve
as the backdrop. This area is adjacent to the Compton Café and screened for privacy. The Side Tent is not air
conditioned but cooled by ceiling fans. The Side Tent accommodates 50 people audience style and 40 at round
tables.
Capacity & Rate
50: $600/hour
51 – 100: $1,100/hour
101 – 150: $1,500/hour
Evening Locations & Rates
If you want to impress your guests in a setting like none other, take your party Out on a Limb! Designed by
Metcalfe Architecture & Design, Out on a Limb is fully accessible and impressively lit at night. Host an
intimate sit-down dinner party or a cocktail reception from up in the treetops.
Capacity
Cocktail: 100
Sit Down: 20
Rates
Fri/Sat/Sun: $1,800
Mon-Thurs: $1,400
The Widener Visitor Center serves as the base for your event. The adjacent tented area, with optional side
flaps for inclement weather, can accommodate up to 175 guests for a sit-down dinner (tented area not
available November - March). Tables and chairs are included. The tent is outfitted with ceiling fans and
portable heaters. Several interior rooms off the tent accommodate essential party features, including: a bar,
dessert station, photo booth, etc. Wheelchair accessible restrooms are available indoors and out.
Capacity
Sit Down: 175
Rates
Fri/Sat/Sun: $2,500
Mon-Thurs: $2,100
Built in 1908 beside a creek, the Log Cabin was used by the Morrises to entertain friends and now you can
entertain a party of six in this historic structure. It remains an idyllic spot to enjoy the woodland plants in this
area and is a perfect place for an intimate dinner party, perhaps a romantic wedding proposal, or to celebrate
a milestone anniversary or birthday dinner with your closest friends.
Capacity: 175
Rates
Fri/Sat/Sun: $3,500/$3,800
Mon-Thurs: $3,100/$3,400