The Fernery
Image

The Dorrance H. Hamilton Fernery 
Image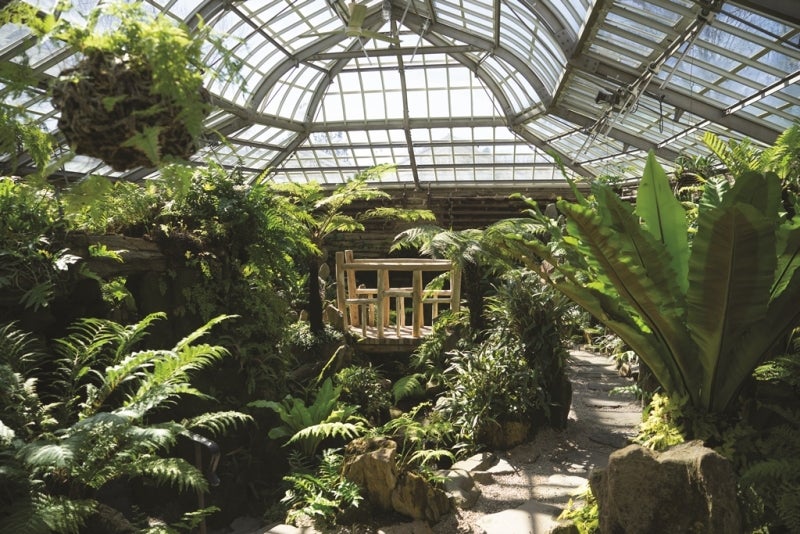 The Dorrance H. Hamilton Fernery is the only remaining freestanding Victorian fernery in North America. Originally built in 1899 under the supervision of John Morris, the fernery stands today as a historical time piece, documenting the British obsession with ferns and glasshouses during the Victorian era. The building was constructed using locally mined stone and utilized cutting edge technology in glass cutting, steam heating, and architectural elements. 
In the century following the original construction, the fernery slowly fell into disrepair, with several small renovation projects to protect it from destruction. Finally in 1994 the fernery was fully restored to its original grandeur with a gracious donation from board member Dorrance H. Hamilton and other contributors who responded to a major matching grant from the National Endowment for the Humanities. This $1.2 million renovation included restoring the roof to the original curvature, replacing and updating the heating and electrical systems, installing an advanced climate control system, and restoring the waterfall, ponds and stone walls. The blue flagstone plaza was also installed during this project to welcome visitors, and provide a shaded relaxing place to stop and enjoy the arboretum. 
Nestled in a curve of land below the rose garden, the fernery has become an iconic part of the Morris Arboretum. Its glittering rooftop welcoming visitors into a peaceful space filled with ferns, trickling waterfalls and reflecting pools. A wonderful place to explore in all seasons. 
Download a Self-guided Tour of the Fernery 
Take a self-guided tour of the Fernery on your next visit.
The Dorrance H. Hamilton Fernery is the only freestanding fernery left in North America and is home to over 200 different species of ferns and fern allies. During this tour, you will be introduced to some of the most notable ferns in the current collection.