Blog
Image
Summer of Swings Extended to October 2!
Image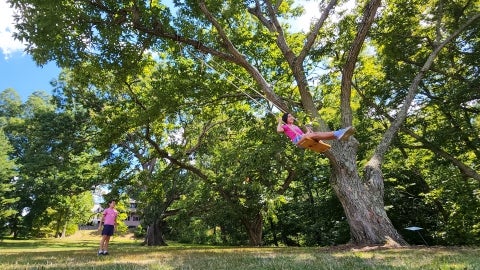 If you didn't get a chance to experience the Morris Arboretum from the high up on a swing, you're in luck—by popular demand, Summer of Swings has been extended through October 2! Admire the changing leaves, learn about Galilieo's Law of the Pendulum, and play our HIGH SPY activity to explore your surroundings and discover something new!
Thanks to everyone who entered the Summer of Swings Photo Contest. We received an astounding amount of entries, and we're so impressed with the talent and creativity our visitors expressed from both behind and in front of the camera.
We are so pleased to announce Elizabeth Encarnacion as the winner! Her photo hits all the marks: originality, a unique view of the Arboretum, and the joy of swings. Congratulations, Elizabeth—we look forward to featuring your photo on our website and seeing you at the Arboretum with your prize membership!