What's in Bloom: August
Image

August at the Morris
Image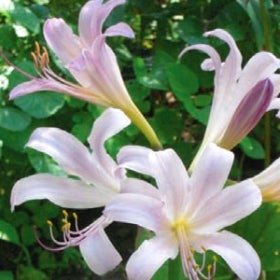 Surprise lily
Lycoris squamigera
Out on a Limb
You'll find this lovely late summer bloom dotted throughout the Morris, providing some welcome color in the gardens. Native to southern Japan, surprise lilies produce foliage in late spring that dies back in early summer before suddenly sending out a single flowering stalk in August—hence the surprise! You will see lots of these lilies along the paved path towards Out on a Limb.
Image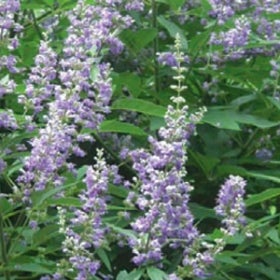 Blue Boa giant hyssop
Agastache 'Blue Boa'
Step Fountain
These tall clusters of giant hyssops are thriving in our newly-planted beds at the Step Fountain, attracting a wide variety of pollinating insects and even the occasional hummingbird. Agastache is native to North America, and the Blue Boa cultivar offers bold and attractive color in this redesigned garden area with its bright blue/violet flowers contrasted against its deep green foliage
Image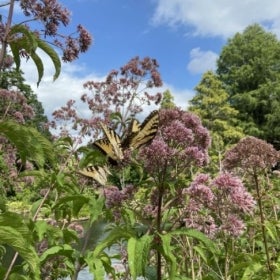 Hollow Joe-Pye weed
Eutrochium fistulosum
Swan Pond
As pollinator season unfolds, vibrant native plants beckon butterflies, moths, and bees throughout our gardens. Among them, a flourishing group of Joe-Pye weed stands tall, boasting magnificent seven-foot stalks crowned with clusters of delightful pink flowers.
Image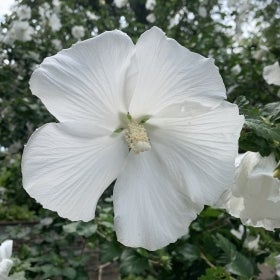 Diana rose-of-Sharon
Hibiscus syriacus 'Diana'
Widener Welcome Center
Perhaps one of the first bold blooms you'll encounter at the Morris, this rose-of-Sharon variety produces showy white flowers and is located just by the Widener Visitor Center. This cultivated variety (cultivar for short) is named after the Roman goddess Diana (Artemis in Greek mythology), the goddess of the hunt and the moon. These beautiful Diana rose-of-Sharon shrubs will continue to bloom until the fall.