Blog
Image
Plant Names Tell Their Stories: Scaevola aemula (fan flower)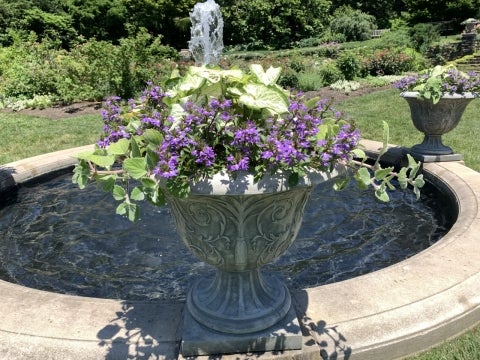 This summer, Scaevola aemula is featured in many of the planters gracing the Rose Garden of Morris Arboretum. Scaevola aemula is an Australian native, a tender perennial grown as an annual in our temperate climate. The common name is fan flower or, even more imaginatively, fairy fan flower. Looking from above, it seems as though it's been cut in two: there's only half a corolla tube, which resembles a fan. But look again—instead of a fan, you can imagine a left hand with five fingers; Scaevola means "left-handed" and aemula means "imitating."
Carl Linnaeus (1707–1778), who is credited with naming the genus Scaevola, and Robert Brown (1773–1858), who named the species Scaevola aemula, both certainly knew the famous story of the Roman soldier Gaius Mucius: a man so brave that when captured by his enemy he thrust his right hand into fire to demonstrate his fearlessness. Astonished, the enemy released Mucius, and after that he and his descendants were tagged with the surname of Scaevola, meaning "left-handed." Even today, school children in Italy are familiar with this story, and not surprisingly, Scaevola has been the subject of numerous paintings, drawings, and statues, including The Trial of Mucius Scaevola by Italian artist Vittorio Maria Bigari (1692–1776), owned by the Philadelphia Museum of Art.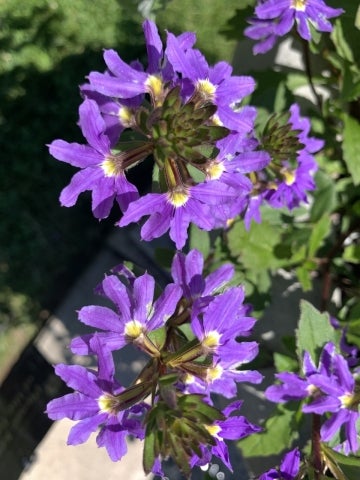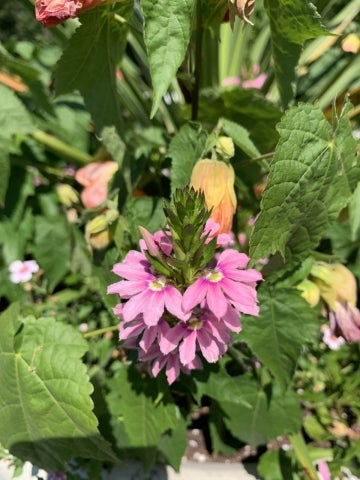 Scaevola aemula are short trailing plants that can withstand sun, heat, and drought, but they do enjoy regular watering. They are used in containers as "spiller plants"—splashy plants that cascade and tumble over the sides—and they can also be used as edging plants in a landscape border. The species is originally dark blue with a bright white and yellow throat, and cultivars have extended the petal color range to include light blue, purple, pink, and white. 
Next time you visit the Rose Garden, don't forget to see the Scaevola aemula and reflect on the timeless story behind its name—and speaking of fairy fan flower, be sure to check out the Fairy Woods located just beyond the Rose Garden!
Katherine has her Certificate in Botany from the New York Botanical Garden and is a left-handed botanical tour guide and freelance writer. You can contact her with comments or requests for photos at botanicaltours.weebly.com