Blog
Image

Tree Pose in the Treetops at the Morris Arboretum & Gardens
It's 5 pm on a cool May day, and an outdoor yoga class at the Morris Arboretum & Gardens is about to begin.
But instead of staying rooted on the ground, the students gathered for Treetop Yoga find themselves fifty feet up among the canopy, spaced out along Out on a Limb, one of the Morris's most popular attractions. The exhibit extends for 450 feet of elevated walkways, winding through the trunks of beeches, oaks, hickories, and black tupelos—except where the floor splits to allow a tree to pass directly through, around which netting hangs that allows visitors to climb or lounge at an elevation usually reserved for squirrels. As the students rise to balance on one leg in tree pose, their bodies mimic the branches that spread out around them.
Part of the University of Pennsylvania, the Morris sees tens of thousands of visitors throughout the year. Many come to take advantage of a variety of continuing education classes amidst its collection of trees and plants from around the world. But Treetop Yoga may be this year's most unique offering.
"What was really interesting was realizing how up until that point all my yoga practices had been firmly on the ground close to the Earth," said Lori Rouhana, one of the students attending the class. "To be suspended in the air at eye level with the treetops was a whole new vantage point and made the practice that much more unique and special."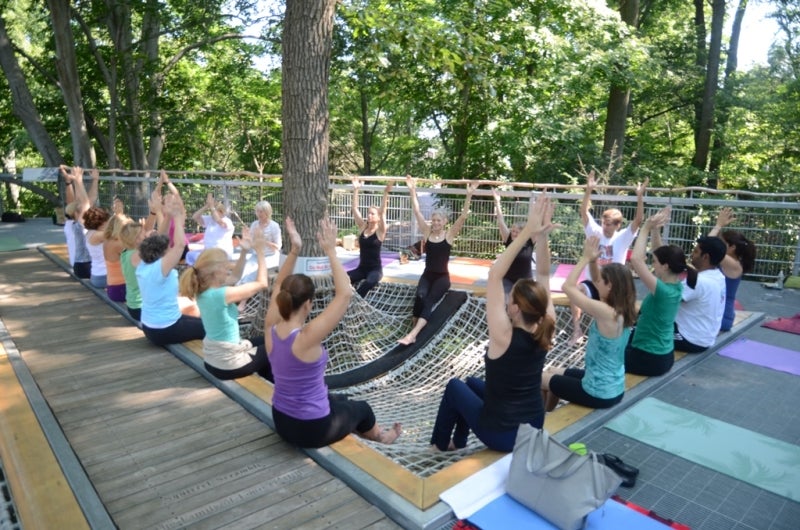 That idea is at the core of instructor Maura Manzo's concept for the class, making use of the setting provided by Out on a Limb to pull students out of their routines and the regular mental patterns that go along with them. "Coming into spaces like this, you couldn't be further away from a yoga studio. That in and of itself offers a totally different perspective," said Manzo. "You're going to take a pose and it's going to feel different in your body because you're suspended 50 feet in the air."
In designing the class, Manzo brushed up on her tree knowledge, including reading The Hidden Life of Trees by German forester Peter Wohlleben, which explores the science of how trees in a forest are interlinked through root systems and chemical communication. "It's really fascinating how much trees have to teach us, whether about the soil and fungi or the networks that all talk to each other," Manzo added, "and that same conversation is part of yoga dialogue, that natural connection between all living things. None of us are separate."
While the disruption of the Covid-19 pandemic caused many activities to be moved into outdoor settings, Manzo expressed concern that this opportunity for people to be more connected to their environment is being lost. "At some stage during the pandemic, people were getting outside more… And slowly what I think we're seeing happen is that's going away. We're getting sucked back into our computers and phones—and no, this needs to be a part of our life."
Many public gardens and parks like the Morris were established in the 19th and early 20th centuries to benefit the public's health. Today, research supports the idea that bringing physical exercise outdoors into a natural setting can improve the health and mood benefits of the exact same workout routine if it were performed inside.
"The health and wellness programming at the Morris nurtures both the body and the mind," said Stephanie Bruneau, assistant director of education at the Morris. "Public gardens have long been recognized as therapeutic spaces, providing a serene natural environment for visitors that can foster relaxation and stress reduction. Engaging in activities like yoga and meditation in a natural setting can have profound physical, mental, and emotional benefits."
Those who were part of the class agree. "I've done yoga at the beach, rooftop yoga, even yoga with kangaroos," said Brynne Travis, a Conshohocken resident with her own experience as the manager of a yoga studio. "But yoga in the treetops with Maura was the most standout yoga class I've ever attended. The venue perfectly weaves the connection to the outerworld and the innerworld as you're in the canopy."
Treetop Yoga is being expanded to a series of three sessions this fall:
Tuesday, September 12; Friday, September 22; Wednesday, October 11
5:00 – 6:30 PM
Single Session Registration
Members: $40 | Non-members: $45

All Sessions Registration 
Members: $100 | Non-members: $120
And be sure to join us for our other health and wellness programs such as Walking Mindfulness Meditation, Tai Chi, Forest Bathing, and Ornitherapy (Mindful Birding.)